DARE TO COMPARE
Ford Bronco vs. Jeep Grand Cherokee


At a Glance: Bronco vs. Grand Cherokee
Do you often find yourself in the great outdoors? Have you been scouring Lewisville, Frisco, and The Colony, TX for remote campgrounds and hidden havens? Sounds like you've got quite the adventure bug.
If you've been looking for an SUV that matches your wild side, the 2024 Ford Bronco and the 2024 Jeep Grand Cherokee will help you dive right into any journey. Continue reading Sam Pack's Five Star Ford of Lewisville's comparison below to choose an adventure companion.

4-WHEEL DRIVE
Bronco vs Grand Cherokee

MAX WATER FORDING DEPTH
Bronco vs Grand Cherokee

DRIVE MODES
Bronco vs Grand Cherokee
See the Difference for Yourself
Select a category below to learn more about how the Ford Bronco compares to the Jeep Grand Cherokee.
DESIGN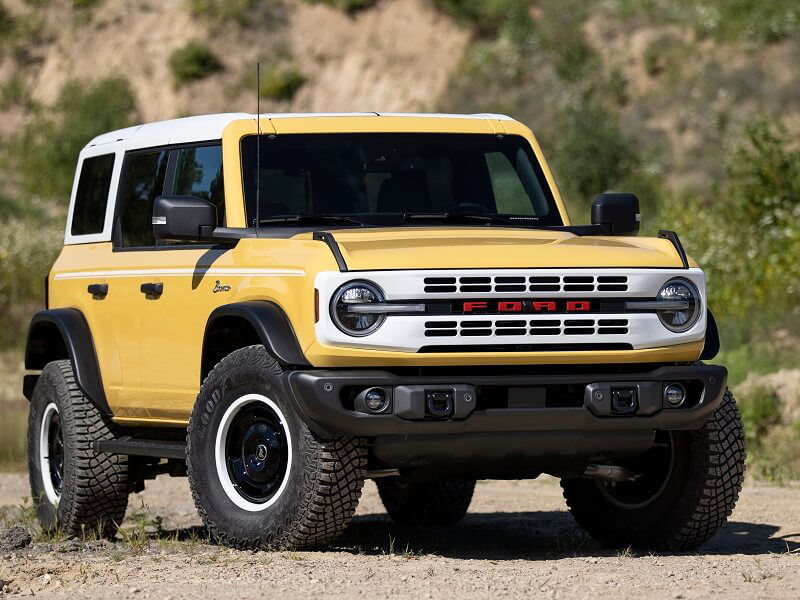 There are many activities to enjoy in the world's remote corners, like off-roading, water fording, mudding, rock crawling, overlanding, and more. If you're already diving headfirst into the elements, why not choose a vehicle that lets you experience nature to the fullest?
Shape-shifting SUVs
The Bronco and the Grand Cherokee offer different yet signature design schemes. For instance, the classic 2-door Bronco is highly recognizable on the streets thanks to its square body, wide stance, and extra-long doors for easy rear-seat passenger access. A 4-door Bronco is also available, which makes this thoroughbred more family-friendly.
If you want the ultimate shape-shifter by your side, you need the Bronco. It's meant to be reconfigured and put back together again. That's the backbone of its versatility! It can take many shapes to support your adventures, whether that be doorless or roofless. No matter if you choose a soft top or hardtop configuration, you can partially or fully remove the roof! Take the doors off too for even more uninhibited fun.
The Grand Cherokee takes a more traditional SUV shape with two rows and five seats. Drivers looking for more space for their family can opt for a 3-row version of this SUV. Unlike the Bronco, this Jeep is better with its doors on. Plus, the closest you'll get to open-air freedom is with an available sunroof.
Color Me Happy
Even more customizations await you in the Ford. It's offered in several lively paints indicative of the natural hues you'd find in the wilderness and pays homage to this SUV's rich history. Which color will you choose?
Eruption Green
Race Red
Azure Gray
Yellowstone
Robin's Egg Blue, a refreshed version of the 1966 Bronco color
As for the Jeep, it sticks with more classic colorways, like black, gray, silver, and white. However, you can don Velvet Red or Midnight Sky for a little kick to your commute.
▲ BACK TO CATEGORIES ▲
PERFORMANCE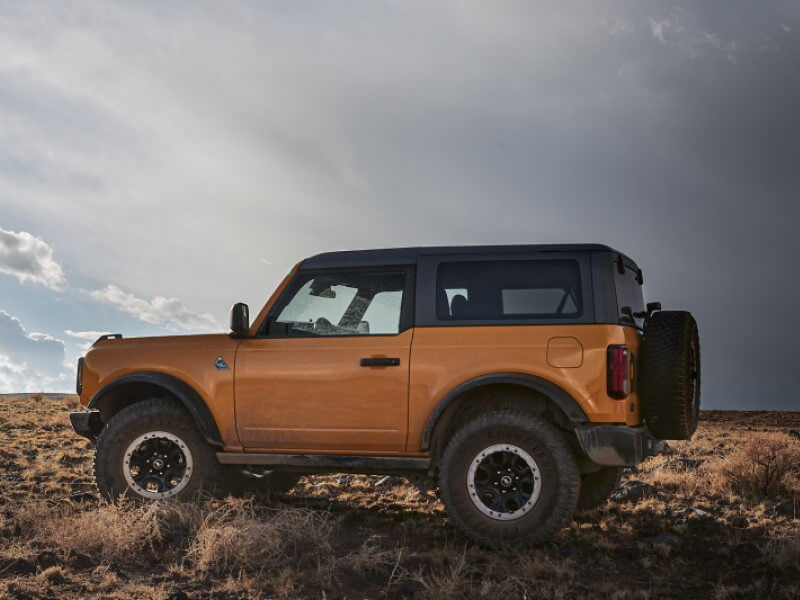 The right vehicle for your adventure bug harbors ample power and knows how to shift on the fly. It can elevate your time behind the wheel and boost your confidence. Do the Bronco and the Grand Cherokee make the cut?
Power Your Outdoor Plans
Both the Ford and the Jeep have three available engines to offer. Which one has the more powerful standard powertrain? The Bronco's 2.3L EcoBoost® engine generates up to 300 horsepower and 325 lb-ft of torque. The Grand Cherokee's 3.6L V6 engine produces 293 horsepower and 260 lb-ft of torque.
Their standard horsepower is quite similar; however, the Bronco offers towering torque for more responsiveness on any terrain. Whether you're cruising down expressways or meandering through trails, you'll want the extra power boost the Ford harbors.
Customize Your Adventure
When your mission is to go over, around, or through obstacles, you need a vehicle that can roll with the punches. The Bronco comes standard with a Terrain Management System™ with six G.O.A.T. Modes®:
Sport
Eco
Normal
Slippery
Sand/Snow
Mud/Ruts
Higher Bronco trims come with even more drive modes, including Rock Crawl, Baja, Tow-Haul, and Off-Road. On the other hand, the Grand Cherokee has an available Selec-Terrain® Traction Management System, which only comes with five modes.
▲ BACK TO CATEGORIES ▲
OFF-ROAD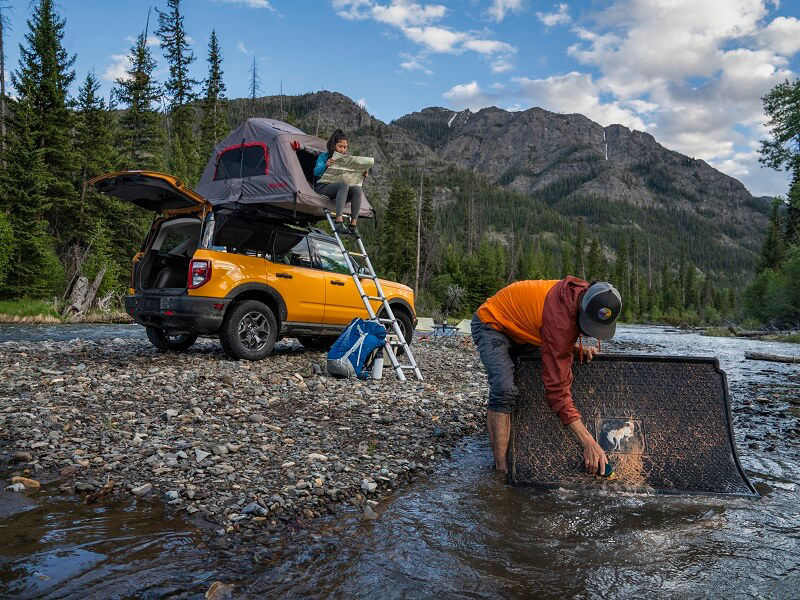 You're a lean, mean, off-roading machine. You feel proud when you conquer a hard trail or make it through a tough obstacle. Although your skills are on par, driving the right vehicle can take you from pro to expert status.
4-Wheelin' Fun
Mud or muck in your path? No problem. The Bronco comes standard with ground-gripping 4-wheel drive, so you can explore interruption-free. On the other hand, the Grand Cherokee is available with three 4-wheel drive systems, but 4x2 drive comes standard.
With standard 4-wheel drive, the Bronco will be prepared for any terrain its tires meet. You'll have to specifically choose a 4-wheel drive Grand Cherokee to gain the same confidence.
Conquer the Elements
Both the Ford and the Jeep can topple the off-road scene; however, after looking closer at its off-road hardware and capabilities, the Bronco edges out the Grand Cherokee in several categories.
The Ford can offer drivers 13.1 inches of ground clearance, so you can make it over rocks and boulders without a scrape. The Jeep maxes out at 10.9 inches of ground clearance. The same goes for water fording capabilities. The Bronco can easily take on 37 inches of water, whereas the Grand Cherokee can wade through 24 inches of water.
▲ BACK TO CATEGORIES ▲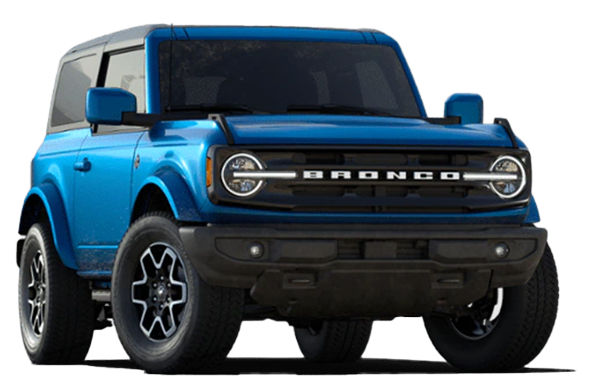 The off-road trails of Lewisville, Frisco, and The Colony, TX are calling! It's time to choose the right vehicle to join you. Thanks to its versatility and off-roading prowess, we believe the Ford Bronco will satisfy your adventure bug better.
Do you agree? If so, schedule a test drive with Sam Pack's Five Star Ford of Lewisville today!
All of the tools you need to move forward with experiencing a new 2024 Bronco for yourself are conveniently available right here online.
---