DARE TO COMPARE
Ford Bronco vs. Toyota 4Runner


At a Glance: Bronco vs. 4Runner
Are you sitting at your desk dreaming of the scent of fresh pines and of summiting new mountains? If so, then it's time for an adventure, and you'll need the right ride to take you there. The 2023 Ford Bronco and the Toyota 4Runner have the market cornered when it comes to rugged SUVs, so which one should you choose?
The team at Sam Pack's Five Star Ford of Lewisville is here to give our Lewisville, Frisco, and The Colony, TX friends the answer.

4-WHEEL DRIVE
Bronco vs 4Runner

FRONT HEADROOM
Bronco vs 4Runner

TOUCHSCREEN SIZE
Bronco vs 4Runner
See the Difference for Yourself
Select a category below to learn more about how the Ford Bronco compares to the Toyota 4Runner.
PERFORMANCE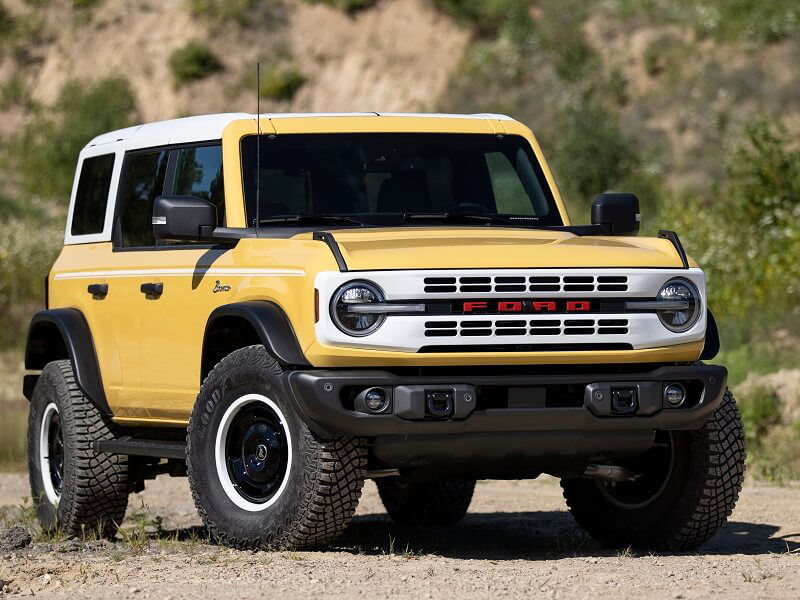 SUVs like the Ford Bronco and the Toyota 4Runner are known for their powerful engines. Whether you're just driving to work or hitting the trails, both models offer convenient features to spruce up your drives. Let's find out which one can help you explore the roads less traveled.
Built to Roam Far and Wide
Adventures are much more exciting when you know you can roam with complete ease and confidence. There are no limits when you choose the 2023 Ford Bronco or the Toyota 4Runner thanks to a 4×4 system. It sends power to all four wheels as needed to provide extra traction and control over unpredictable terrain.
In the Bronco, this feature comes standard, ensuring every model is just as rugged as the next. On the 4Runner, though, you'll need to add on 4-wheel drive if you'd like to do some thrilling off-roading.
Customize Your Drive
On the Ford Bronco, the 4x4 system is paired to a Terrain Management System™ with up to seven available G.O.A.T. Modes™ for added stability. Choose from modes like Mud/Ruts and Rock Crawl to conquer whatever's in your path.
You won't be treated to the same selectable modes to curate traction and ruggedness with the Toyota 4Runner.
▲ BACK TO CATEGORIES ▲
INTERIOR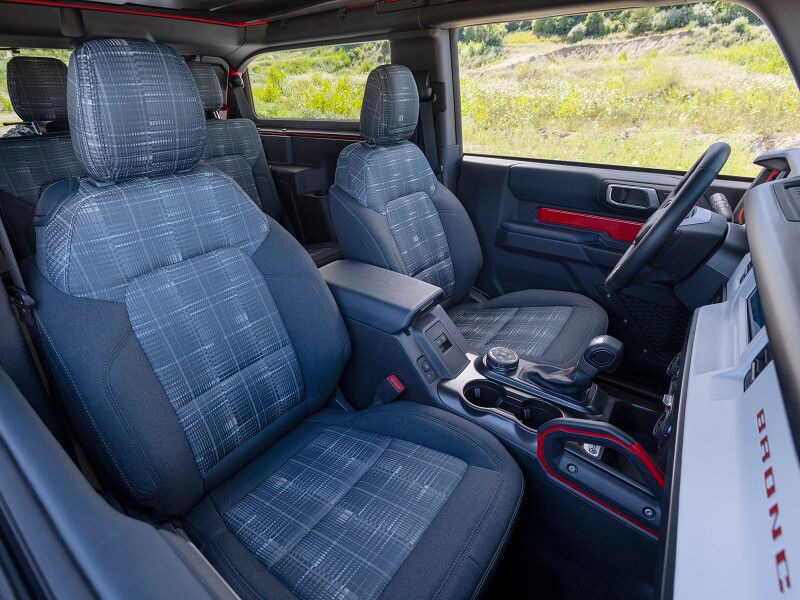 The 2023 Ford Bronco and the Toyota 4Runner have ample room for all your fellow hiking buddies to come along for the ride. However, it's also important that every explorer stays comfortable throughout the entire journey.
Space for Your Adventure Crew
While both SUVs have roomy cabins, everyone will probably prefer the more spacious dimensions of the Bronco…
| | Ford Bronco | Toyota 4Runner |
| --- | --- | --- |
| Front Headroom | 43.3 inches | 39.3 inches |
| Front Legroom | 43.1 inches | 41.7 inches |
As you can see, the Bronco has more overall space than the 4Runner in terms of headroom and legroom, making it the perfect ride for everyone on board.
Rear-Seat Paradise
Looking for the model with the most room throughout the cabin? Even rear-seat passengers will be able to relax in the Ford Bronco, which offers 41.1 inches of headroom and 36.3 inches of legroom in the second row.
In comparison, the Toyota 4Runner is a bit more cramped with just 38.6 inches of headroom and 32.9 inches of legroom for your second-row riders.
▲ BACK TO CATEGORIES ▲
TECHNOLOGY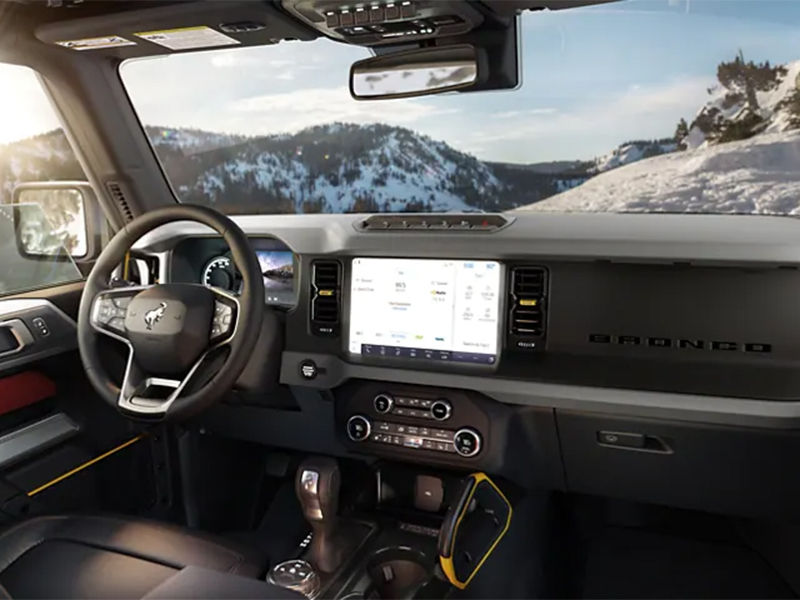 In addition to the power under the hood and space to stretch out, these SUVs also have plenty of interior technology features to show off. From connectivity to audio, the right technology can easily elevate your drives.
An Entertaining Exploration
All your road trips will be much more enjoyable when you have the proper entertainment options by your side. In the 2023 Ford Bronco and the Toyota 4Runner, you'll be able to connect your smartphone via Apple CarPlay® or Android Auto™ to access your curated playlists or favorite national park podcast.
In the Bronco, these features come standard as wireless so you can quickly connect and hit the road. You'll need to remember your USB cord in the 4Runner, though, since a wireless option isn't available.
Easy Viewing
Additionally, you'll control your desired listening experience through an available 12-inch touchscreen in the Bronco. This large screen makes it easy to browse your music, connect your phone, and more.
Visibility may not be as clear on the 8-inch display in the 4Runner.
▲ BACK TO CATEGORIES ▲
Which SUV Is Right for Your Adventures?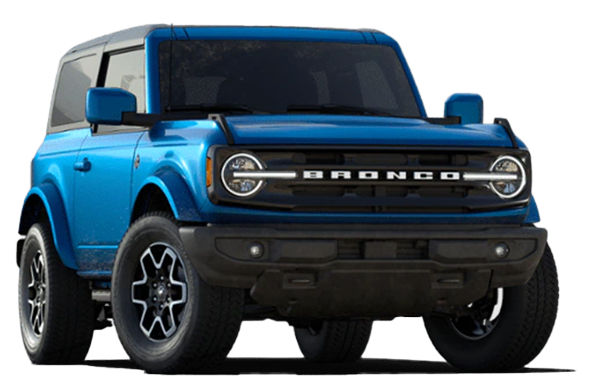 It's clear that both SUVs have what it takes to tackle your travels around Lewisville, Frisco, and The Colony, TX and beyond. However, if you're looking to really crush it out there on the trails, the Bronco is most likely the better option over the 4Runner.
Don't just take our word for it, though. Schedule a test drive of the 2023 Ford Bronco at Sam Pack's Five Star Ford of Lewisville today! Contact us to get started.
All of the tools you need to move forward with experiencing a new 2023 Bronco for yourself are conveniently available right here online.
---